Helping business owners maximise shareholder exit value through tailored
growth, acquisition and exit services 
EvolutionCBS announces the sale of NTA Monitor Ltd to Intertek Group plc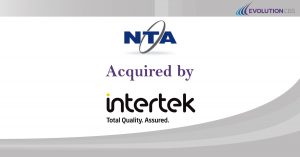 In a deal led by EvolutionCBS, NTA Monitor, one of the UK's most established independent cybersecurity and compliance service providers, has been acquired by Intertek Group plc.
Read the press release here.
EvolutionCBS client Surgery Express acquired by Williams Medical Supplies
EvolutionCBS client Surgery Express LLP has been acquired by Williams Medical Supplies, one of the leading providers of medical supplies and services to the UK healthcare market and a division of DCC plc.
Market News
A Record Year for M&A
In the three months to March this year foreign firms' investment in UK companies reached £21.7bn thanks to 75 transactions, up from 44 transactions worth £3.6bn from October to December 2017. Values for both inward and domestic mergers and acquisitions (M&A) from January to March were above all those recorded for individual quarters in 2017, according to the Office for National Statistics (ONS).
The Daily Telegraph reported that "Quarterly figures on M&A can be very volatile thanks to the timing of large deals being closed.  However, activity in 2017 was "generally higher when compared to historic averages from the period 2012 to 2016."
FREE MASTERCLASS
Behind the Scenes of a Successful Sale | BAFTA, London | Thursday 20th September 2018
Following on from a fully-booked Masterclass at the Churchill War Rooms in April, EvolutionCBS will be holding another free Masterclass on 20th September at the iconic 195 Piccadilly, the home of BAFTA, where our experts will reveal the secrets to a successful business sale. Click here to find out more and book.
Find out more about our popular Masterclasses in the video below:
Free online services to help you grow your business
To help you with your business growth plans, we offer a free online business valuation report and a free value builder report.  These tools will help you to understand the value, strengths and opportunities within your business. Each takes around 20 minutes to complete and you'll receive a comprehensive report with our compliments and without obligation.